Pay Per Click or PPC is an internet marketing tool used to generate traffic to special offers or websites. It can also be used offline by businesses to advertise their products.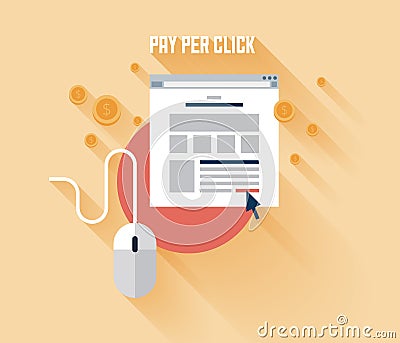 © Photographer: Pressureua | Agency: Dreamstime.com
PPC is an excellent way to generate and get visitors when you need them, but it is risky, since the results are dependent on a few factors. For instance, poor management can ruin the project and cause heavy lose of money, while a wonderfully managed campaign can be highly lucrative. In this article, while explaining PPC, factors that affect its progress and other subjects will be discussed. 
What exactly is PPC?
Search engines like Google Adwords, Bing, and others allow individuals and businesses to order listings in their search reports. When the results appear, it comes with search results that consist of free and natural listings. When a user or categorically a prospect clicks on a sponsored listing (ppc), search engines will be paid.
Identifying PPC Adds on Search engine results:
Usually, search engine listings appear at the far left of search results and most times are located on top of the free ads. Generally, the ads are sold in what resembles an auction condition. You place a bid for what you desire to pay per click and when it is published and clicked on, you'll be charged immediately. For example, if you bid $20 per click on adwords, widgets, Bing or other network of your choice, if it is the highest bid, your listing will show up first. Should 100 people click on your ad, then the PPC service will charge you $20.
Advantages of PPC to Businesses
Instant traffic generation advantage: Pay per click campaigns can help businesses, especially new ones, to start receiving traffic almost immediately. If they spend adequate cash, top placement is almost ensured, and prospective end-users will see their ads and check out their landing page.
It is very fast: Using some ppc setups like Google AdWords can results in very fast results, even several minutes after registering the account.
It is flexible: It is easy to make adjustments to ppc campaigns within hours, hence proving an excellent opportunity to match your campaign with the erratic changes in people's tastes and behavior.
If it is done effectively by a professional, a business can start making significant profit right from day one of account setup.
PPC drawbacks:
May lead to a significant loss if it isn't handled by a professional with solid experience.
It costs a bit: Creating campaigns for some keywords may cost a company a good chunk off their capital.
Difficulty in measuring ROI: Major search engines like Yahoo and Adwords offer tools for measuring conversion. They allow you to know if your campaigns are getting the needed results. However, the tracking devices aren't 100% correct, and smaller ppc networks don't offer these tools.
Look out for junk traffic: scores of ppc sites distribute a portion of their results to quite a few search engines, and your listing may end up showing in an unwanted dark crevice of the internet.
Building a winning PPC:
As already mentioned in the introduction, the result of PPC is dependent on some factors like:
Keyword researching: selecting the ideal keyword relevant to your niche is an important requirement.
PPC management.
Setting a PPC landing page: the landing page must be set up correctly for a high conversion rate. Some search engine's metrics like Google are sensitive to the design and theme of a landing page.
Search engine recompense advertisers that are able to build a significant and intelligently focused campaign through charging less for advertising ad clicks. Therefore, it isn't right to discuss PPC in isolation; it must be discussed alongside other factors that make it work.
Factors that Affect PPC Results
Keyword research is a major component of a PPC campaign. It involves researching for phrases related to a business niche. The effectiveness of a ppc campaign is largely dependent on the success of a keyword campaign plus others like landing pages. Keyword selection is created using keyword tools like Niche Finder by Wordstream, Google Keyword Tool, Search Query Reports, Wordtracker, etc.
Landing pages: When people click on your ad listing, the website they are taken to is the landing page. For maximum ppc campaign results, your landing page must have a high conversion rate. Preparing an effective campaign includes creating a visitor grabbing landing page that will yield the best results. For example, if a landing page is well created and has a good conversion rate, it will lead to a very effective campaign.
Low quality results: Another difficulty many advertisers face is receiving low-quality scores. It is one of the major misunderstood metrics. If your keyword quality score is low, it may be due to a niche that has conventionally low scores like the B2B industries.
High conversion rates: The goal of every advertiser should be to create ad blocks that will attract high conversion rates. A successfully created campaign must be appealing enough to induce prospects to click on it. Combine a high-click through rate with a high conversion rate, and you have yourself a winning PPC.
The Role of PPC in business
PPC advertising is too expensive for some companies to afford, so over-dependency on it isn't advisable, the amount of money spent rises over time. What part does PPC play in different markets?
Campaign: Are you operating on a short term campaign for a service, product, or a special offer? Pay per click could be an ideal way to generate a buzz. First, begin the campaign in 24 to 48 hours and you can generally modify the text of your advertising in mid-campaign.
Direct response: Businesses dealing with offers or products, people can order immediately after they land on their websites (such as online stores), can also use PPC.
Niche markets: Another business that can create a lot of buzz through PPC is generating traffic for an extremely targeted key phrase. A good example is the keyword dresses. Instead of bidding for "dresses" you might want to bid for "bandage dresses." This is an example of a specific niche market.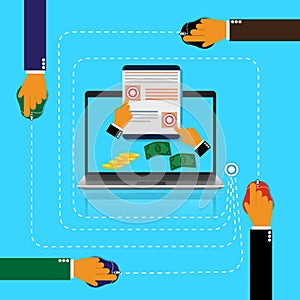 © Photographer: Anutik45 | Agency: Dreamstime.com
Making your PPC campaign successful
PPC is expensive and technical, requiring skill and a solid experience to pull off. If you are a newbie trying your hand on the campaign, below are some tips to make it work.
Track conversion rates for your landing page: One of the ways to make your campaign work is to track your conversion rate. This is the number of times a prospect's visit to your website leads to an action. Therefore, an instance of conversion might be when visitors buy your offers or when they fill a sales inquiry form and registers. With this in mind, a wise business owner will ensure they add these possible actionable features to his website, because conversion doesn't have to be sales. A company can make money directly (through sales) or indirectly (through filing joining contacts lists, etc).
Tracking of ppc conversion: You must track or monitor your conversion rate. Major search engines like Google and Bing has tracking features in their platform. Make it a rule to ensure the advertising sites you are using for your ppc also offer tracking features. If advertisers don't offer any form of tracking features, you can settle for Google analytics. Again, if this doesn't work, use a spreadsheet to track the full conversion rate daily. Using this basic method, note down when there is increase or decrease in the conversion rate per ad block.
PPC management: Set a realistic budget for your campaign. There is no ideal amount, so try planning your budget according to your condition. Here's a working formula you can follow:
CPC less than: total clicks X conversion rate X profit for every conversion
The above formula translates thus: the money you spend for every click should constantly be less than profit earned from each campaign. For example: if $1 is used for each click, conversion rate is 2%, about 30% of visitors actually order something, average profit is, $10 per order, and total click is 200 monthly, the PPC campaign can be calculated thus: 6% by 200 by 10 equals $12 monthly profit from an investment of $200, not good!
This campaign needs to be cancelled immediately! However, though you might be taking losses in the way of direct profit, you can also be making good money from your lists. Therefore, this formula mustn't be taken as a flat rule.
Discover your niche or industry keywords: Many business owners target broad keyword terms like money, dress, dog, etc. The problem here is that such keywords attract generic visitors and not targeted ones. Additionally, broad keywords are highly competitive and expensive too. Therefore, the chance of getting a high-quality bid is very low. The way to go is to target narrow keywords like 'buy bandage dresses," etc.
Excellent writing skill: If you want to increase your CTR, or click through rate, learn to make your ads as persuasive as possible. Make sure your punctuation, grammar, and overall English content is great. Also include buzz words that force people to take action.
Choose quality: Always go for high-quality. Sites likes Google have their sight set on a quality score, so they check: The performance of the ad, the ad itself and the quality of landing page.
How To Receive High PPC Scores
If you want to receive a high-quality score for the best PPC performance, follow the guidelines below:
Focus on creating your history: Maintain an account long enough to build a solid reputation. Avoid the habit of changing accounts because longer campaigns, specified ad groups and ads make for a higher account history and reputation. So, don't change the account, maintain one and see your campaign effort climb.
Test ads constantly to get the best CTR: Always add keywords in your ad as this will ensure your campaign will receive the most attention from PPC networks like Adwords, etc.
Add keywords to your landing page: Divide and set aside bad keywords from the good ones and focus your campaign by the geographical time of day, search network, etc.
Therefore, business can use this tool to their advantage. Although it is lucrative, it can also be a capital draining venture if the advertiser isn't a professional, the campaign isn't well managed, etc. There are many advantages and disadvantages to PPC, but it is definitely worth it if done right.